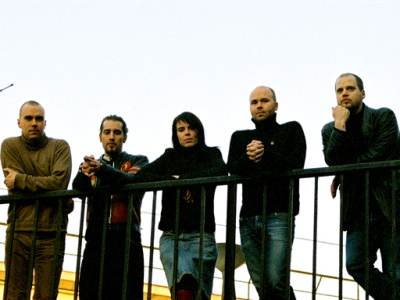 The Swedish band Paatos is one of the most signicant of the twentyfirst century Progressive Rock scene, with their music composed by many influences. The singer Petronella Nattetmalm explains us the union of Jazz, Scandinavian Folk, Post Rock and Progressive that has taken to the last Kallocain...



E.B. - Hello Petronella. How are you? It's a pleasure to talk with you; so let's start with the questions. First, could you make a short introduction about the band?
Petronella - Hello Edoardo! I'm fine thank you. About the band… Paatos consist of five members. Huxflux (drums, percussion and various sounds and voice) and Johan (Keyboard & Mellotron) who has played together for years and Stefan (bass-guitar) who's a veteran at the Swedish progressive scene, being one of the members of the former active band Landberk. Then it's Peter (guitar) who's originally from the jazz scene and myself (vocals, tambourine and cello).
E.B. - How would you define your style? Maybe a mixture of Progressive, Folk, Jazz and Post Rock? Which of these genres has influenced more your music?
Petronella - I guess you're quite right about the fact that our music includes lots of different styles. That's the result of the members very divers musical background and musical taste. For example Huxflux has a history of playing hardcore Drum&Bass as well as some years of playing with the metal-rap-band Fistfunk. Nowadays Hux mostly listens to music such as Godspeed You Black Emperor or Boards of Canada. Peter is the jazzguy, he has his own jazz-quartet and Johan has a past in the former Progressive band Egg (together with Hux) and has a weakness for King Crimson. Stefan is as I mentioned before the former member in bands like Landberk and Morte Macabre. And myself, I listen to everything from Jeff Buckley to Porno for Pyros, as long as it's sad. I'm not really in to happy music.
E.B. - Your voice is very close to Bjork's. Do you take inspiration from her music? What are your main influences? What do you like to listen to in this period?
Petronella - I take that as a compliment! I love Björk's work and I think she is more progressive than many others as well as an incredible talented composer and singer. I have been listening to her a lot over the years and probably she made an impact at my voice. I think that mostly I learned that it doesn't have to be pretty and beautiful all the time to be good. Sometimes the opposite is better and expresses a feeling better. Right now I'm for example listening to the Japanese band Mono (they did a splendid show here in Stockholm this summer!).
E.B. - In my opinion you're quite changed from Timeloss to Kallocain, in a positive way. I consider Kallocain one of the best releases of 2004. Is there anyone specifically that creates the songs or do you work all together about it?
Petronella - Thank you very much! Yes, I agree with you that it is a quite big difference between the two albums, but a natural one. We wanted to go further with our sound and made a more produced album. The songs are also more structured and the sound is more naked compared to Timeloss witch I think has a more "live-feeling" to it. How the songs are created is different from song to song. Some songs are composed by one member alone while some is a mixture with contribution from all of us. For example the verse is composed by one of us and the chorus is someone else's work and the lyrics is written by a third part. Some songs are created as a result from a jam in the rehearsal-studio.
E.B. - Could you shortly explain us the lyrical themes of your songs?
Petronella - I can only speak for myself and the lyrics I am responsible for. I write lyrics about thoughts that I've had and they often describe existential questions (such as Reality for example). There is not really a theme, we write about things that's important to us.
E.B. - How has been the general feedback concerning Kallocain so far?
Petronella - It's been really good. Mostly good reviews and lots of nice feedback from fans and listeners.
E.B. - Let's talk about the future: what are your projects? Are you working on new material? When will we see a new Paatos' release?
Petronella - Yes, right now we are working on new material. We started rehearse new ideas just before summer and then we had a break since everyone had their own projects during summer. Now we're back on track again, and next week we will start working really intense. Hopefully we will be ready with the recording at the end of this year and releasing the album next spring.
E.B. - Do you think that your sound will change in the future or do you want to continue on the way of Kallocain?
Petronella - It's always hard to say, you are never totally sure how the final result is going to sound. It seems like the music is living a life of it's own, so I guess it's no use trying to plan ahead. And it would take away some of the joy of creating too I think. But my feeling right now is that next album is going to be harder than Kallocain.
E.B. - When did you start singing? And playing the cello? Could you explain us your musical evolution?
Petronella - I have been singing all my life, more or less. My father is a musician and there was always lots of music in our home as I grew up. When I was a young girl I sang a lot in different chores and folksongs and when I grew up I joined different band and did backing vocals. Then I had a break for several years and it wasn't really until I met Huxflux I seriously started to include music in my life again. He persuaded me to start writing songs and later on he persuaded me to try out as vocalist in Paatos. The rest is history. I started to play cello when I was about 12 years old, before that I played the recorder. Then I sold the cello as an obstinate teenager and didn't play for years. A couple of years ago I bought a new one and started playing again. Sadly enough I don't practice as much as I should, but I love playing it! In my opinion, cello is one of the worlds most beautiful instruments.
E.B. - Steven Wilson mixed Kallocain, didn't he? How did you feel working with him?
Petronella - Steven is the best! He flew up to Stockholm and mixed the album together with us and he really was great. He is a fantastic musician and he also has that little extra when it comes to finding the right sound. He is sensitive and on top of that- a really nice guy!
E.B. - Which band are similar to Paatos in your opinion? May you describe the actual Swedish scene?
Petronella - I can't think of any particular, I guess we are similar to different bands in different songs. Sweden has been a small but solid ground for progressive bands for a long time (with bands like Anekdoten, Landberk and Katatonia. Then there are some great heavier bands like Opeth). But I think that most of these band have their listeners outside Sweden, because progressive music is not very big here. The scene here for this kind of music is almost non-existing.
E.B. - What do you think about Inside Out Records? Is it a good label for new progressive bands?
Petronella - Inside Out has been great for us! They really care about music and not just about the money witch is nice. They have always given us free hands and trusted us in the creating process, so yes, I think it's a good label for new progressive bands.
E.B. - After the Rock against Terrorism Festival in Poland are you going to play in other gigs? How do you feel when you're playing in front of hundreds of people?
Petronella - No gigs are planned in the nearest future, we will concentrate on recording. I´m always nervous before a gig, but nowadays it's more of a healthy nervousness than a sickness, as it used to be a couple of years ago. For me it's like climbing a mountain or jumping parachute- a kick. And when it's over and people actually liked it, it's an amazing feeling that nothing else can beat!
E.B. - You have played twice in Italy (Circolo degli Artisti - Rome and Transilvania Live - Milan): how did you find our country and crowd? Are you going to return for new dates in the future?
Petronella - I love Italy. The nature, the food, the wine and the people, in fact I love everything about it! People are very open and generous and it was great playing there! Hopefully we will return soon.
E.B. - Have you ever been to Italy apart from concerts and gigs? Which towns did you visit and what would you like to visit?
Petronella - I went there with my family as a kid, I remember we went by car up in the mountains and it was just fantastic. We also visited Venice. Huxflux and I spent a holiday at Sicily a couple of years ago and had a fantastic time! I would very much like to go to Sardinia and also I would like to spend some more time in Rome. And I hear that the food is fantastic up in the North, so that would be a wish too.
E.B. - Thanks a lot for your kindness. I hope to see you soon in Italy! Good luck with the next releases from RockLine.it; you can finish the interview as you prefer. Bye!
Petronella - Thank you too! Hope to see you as soon as the new album is out! Until then-take care.