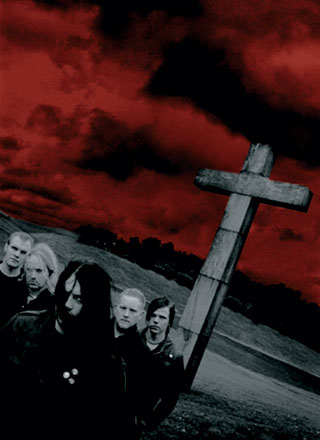 Waiting for the release of The Great Cold Distance, that will be out on March 13, RockLine.it interviews Anders Nyström, leader of Katatonia with Jonas Renske. The new work continues the Alternative/Dark turn that had begun with the masterpiece Viva Emptiness. And soon Katatonia will perform it live in Europe...



E.B. - Hello Anders, it's a great pleasure for me to talk with you before the release of your new The Great Cold Distance!
Anders - No problem, the pleasure is mine.
E.B. - First of all, what can you say about The Great Cold Distance? Why did you choose this title for it? And in which way, in your opinion, is it different from Viva Emptiness? I think that your Alternative/Dark Rock evolution has reached the top with The Great Cold Distance…
Anders - Yeah to me it feels like The Great Cold Distance is really a continuation where we left off with Viva Emptiness. It has some of the most aggressive material we ever done in our entire career, but it also has some really atmospheric and moody moments, so comparing it to Viva Emptiness I think the main difference is The Great Cold Distance having more dynamics and definitely a heavier and more professional production. This is where we stand today and what we find representing our minds. With this album the gap between us and the rest of the world has increased with a great cold distance.
E.B. - It took you almost three years to return with another full-length after the superb Viva Emptiness. How long did it take you to compose The Great Cold Distance and how did you work for the song-writing?
Anders - Those three years of absence if you will, was in between one tour and a few gigs here and there mostly spent fighting the vultures and deserts of the music business. Handling frustrations while carrying on your dream. I believe the composing alone was done over the spring months last year. Basically, I and Jonas put this album together here at our home studio. First, we went through our demos with tons riffs and lose ideas, picked out the best and categorized them into different types of styles. Then we started the arrangements built on what we wanted to come across for each song. Material would be built up, shifted around in the song until we got a good structure of intent. Our mission was to create and deliver a very heavy and aggressive album layered on susurrus depth of atmosphere. We carried on tons of dark and cold visions and with our minds set on that, we felt obliged to transform that vibe with razor-sharp precision into music.
E.B. - Did you use the keyboards for the electronic effects on the album or are these effect produced by the guitars and the bass? Have you ever thought about the possibility of performing live with a keyboarder?
Anders - There's some Mellotron on the album, but 95% of what you would believe to be keyboards are actually guitars with tons of effects done by lots of tweaking. Bringing in a keyboard player has never appealed to us. We don't wanna become that type of band, we're a guitar driven act and wanna work it out from that point. We try to re-create as much as possible of the electronic effects live with our guitars and it's alright. Perhaps we should hire an extra guitar player instead of a keyboardist.
E.B. - Is The Great Cold Distance a concept? Could you tell us the stories behind the lyrics of songs such as Deliberation, the single My Twin and July? Their titles are so mysterious…
Anders - This is really something you've to find out for yourselves. There's a charm in leaving the lyrics and concepts unexplained. Our lyrics and concepts are just sitting there for you to dive into. It's the best way to find out what it ultimately means to you...
E.B. - As I can read from your official forum, you've just finished the video of My Twin single; the interpretation of the song carried out by actors together with you. Did you enjoy this experience? Are you going to record other videos of songs taken by The Great Cold Distance?
Anders - I enjoyed it very much. I hear most people usually complain about doing videos because it's a drag and it takes too much time, but I found it interesting to be part behind the scenes and get to see a glimpse of how everything is done and how it comes together. Considering My Twin being our first video and directed by someone who didn't know Katatonia, I think the result was great in terms of our concept and dignity, so I'm definitely happy with the outcome. If this video/single turns out to be successful, we might look at the possibility of doing another video to follow up with. There'll be arguments about which song though.
E.B. - What do the covers of My Twin single and of The Great Cold Distance represent? What are their deeper meanings?
Anders - It can't be too hard to look at them and get your imagination spinning, can it? Honestly, It's not in the artist's nature to analyze his work into given explanations. It's already completed and shouldn't be needed to be explained. You have the title, you have the cover, now let it come together in your own mind. It's all different in the eye of the beholder and there's never only one right meaning, all are right and all are wrong. Anyways, our good friend Travis Smith did a fucking god job once again, wouldn't you say?
E.B. - Yeah, he did! Travis Smith said that the old logo had been replaced because it didn't fit the artwork well. Will the old and famous logo remain in your shows and future albums or will it be changed?
Anders - We have absolutely not scrapped the logo. It just didn't fit for this album because we wanted the music, lyrics, images and layout, yeah everything to be as cold as possible. A simple clean font written in a direct line created a much more colder and intriguing impact to the rest of the cover which the logo failed to do. However, the logo will still appear on stuff like merchandise, stage props, and on everything where the font version is not required. Should be cool.
E.B. - I've seen the promotional photos for The Great Cold Distance. How would you describe the landscape of the album? It's quite different from the Viva Emptiness' one but it keeps a some kind of apocalyptic feeling…
Anders - Once again, it's the coldest album we ever done and it's also the most perfect in a clinical sense. I literally can see some songs swirl in minus degrees because of the freezing lonely atmosphere. It has a apocalyptic feeling in it, just as the promotional pictures depict, the desolate abandoned landscape after everything is gone. We wanted this vibe captured in everything that had to do with this album.
E.B. - Will a European tour follow the release of the album? Will you come to Italy by the end of 2006? We're always awaiting you for some shows and performances in our country…
Anders - Let me tell you, Italy is one of our absolute favourite places to play and it's been for 10 years. We always had a very supportive audience and what band can't but love that phenomenon of people singing along to the guitar melodies! That is wonderful! You know, that's something which would never happen in northern Europe or Scandinavia. So, we cant wait to get back to this lovely country. We'll probably gonna be out touring for a little bit in late spring, then do a bunch of summer festivals and then do a complete headline tour in autumn. So, come out and catch the band and share some of the darkness!
E.B. - In your opinion, how will the songs taken from your last full-length appear in live version?
Anders - Definitely not as cold and perfect (it took three months to get to that), but pretty damn near!!! It'll help a great deal if the audience sing along to those guitar melodies... Ahahah
E.B. - Now let's talk about the past…first of all, why did you decide to radically change your style after the release of Brave Murder Day? I think that the albums of the Depressive Rock period are much better than the first compositions and that your evolution has been wonderful, but I wonder why you have gradually become more Alternative in your sound…
Anders - Well, we got more demanding of what we were doing. We needed to challenge ourselves to keep the ambition ignited and honestly, the old style of ours was being outgrown like a couple of old shoes. You know, a nice pair of familiar shoes, but they were breaking apart and soon you'd be unable to go anywhere. So, to put it all together, Jonas had severe difficulties in performing growls plus our current taste for music had become way more more open-minded - it lead us on a quest to find our true identity. It was not a matter of hesitation, we just went for it, re-invented ourselves and then it all started to come together for real with Discouraged Ones... which I believe I've called our "dark stylistic turn"...
E.B. - In your opinion, how would react a person that listens to your first and to your last album?
Anders - Funny situation! They wouldn't believe it was the same band and I guess neither would I in their place. Well, I'm proud of both of them, they're part of our history and if it wasn't for the first then for sure the last wouldn't be there. So that's how I look on it.
E.B. - Is there anything in the music of the albums from Discouraged Ones to The Great Cold Distance that you don't like?
Anders - Not musically, not really, even though there might be a few songs we will never play live, but we leave those off the set for reasons like they don't fit the tension of a concert. Performance-wise there's a lot I don't like and would die to repair, but that's how the story goes. You gotta leave it behind and look into the future and improve and learn from your mistakes.
E.B. - Now a personal question: when did you start thinking to write depressive, suicidal and bleak music and why did you come to the composition of these lyrical themes?
Anders - I believe it always has been in my nature as an individual. I was probably born with the design to always start from the mentally dark side of life. People have to understand that everything we do with Katatonia is about the negativity in our lives. Katatonia is simply just not the place where we share our happiness, because we're still busy looking for it. Katatonia is just an artistic substitute of expressing our negativity in the most honest and creative form. It's therapy for similar people at similar levels. It's easy relating to as the connection is with people's daily life. Katatonia is symbolism for the unease in life, the fact that you're not alone in your darkness, but the darkness is coming for everyone... life's just a repeated struggle of trying to reach back up to the surface again. The day we stray from this concept, that's the day Katatonia sold out.
E.B. - In 2005 you released the greatest hits The Black Sessions, together with the DVD of Live in Krakow. The show was wonderful but I find the Polish public quite cold. In which countries are you making success and in which are you still considered a "new" band?
Anders - It's rather hard to remember our best and worst receptions because it's different every time too. Italy, Spain, Greek, Turkey and Hungary are always awesome, while Holland, Belgium and so on is kinda flat. Someone else should speculate more about this on our behalf.
I agree that the audience from the polish gig on the DVD was stiff. You know, that whole night was a co-headline bill and about 5 bands playing. We also got there late and only managed to get the last 5 minutes of our sound check, basically just plugging in and leaving the stage. That got us a bit uninspired, knowing the gig would be filmed. The other headliner that night was Paul Di'Anno and I guess the majority of the fans were his, so I could tell 100% it wasn't gonna be "our" audience, not that I would expect Katatonia to go well with patched denim clothed Iron Maiden youngsters anyway, but fair enough, this wasn't one of the highlights on the tour, but that's where the filming took place. We have to live with that. It won't kill us.
E.B. - How are things with the Bloodbath project? Did it influence your song-writing with Katatonia, giving a heavier sound to your last albums? They're certainly two different types of music…
Anders - Yes, they are and that's exactly why it keeps us interested and happy in doing both. All in Bloodbath grew up with death metal in the formative years, so it does still hold a big piece of our hearts. If I shall compare what it's like playing with Bloodbath to Katatonia, I'd say that with Katatonia its very serious and demanding while with Bloodbath its fun and easy going, so when you have both worlds together, you find that balance of being where you wanna be. Doing Bloodbath has been incredible fun and I wish we could take it to the next level, but as soon as you do, a tons of obstacles appear and you don't wanna kill the fun. Getting a couple of acclaimed musicians in a project is a nightmare due to the conflicting schedules of each member's main band. We'll se what the turn of events will be for the future. We still have our eyes fixed on a third album once we sorted out who's gonna sing on it.
E.B. - Concluding, let's talk about the future; it's certainly early to think about your next albums (The Great Cold Distance hasn't been released yet) but, in your opinion, will your sound change again? Which type of sound are you looking for?
Anders - We are perfectly content with the evolution of our sound as it is right now. It's always hard to predict the future, but the next album might be a softer turn, I've a feeling it's gonna be a different album and also it's gonna represent our end on Peaceville, as it's the last album for this label. I think the album after that will take off where we left with The Great Cold Distance and definitely be a harder affair again. Our desire is really to explore the more progressive and aggressive aspects of music, but never without losing the dynamics of having moody soft parts and a dark atmosphere throughout anything we do, that'll always be the very soul of Katatonia.
E.B. - Apart from Katatonia and Bloodbath, are you going to take part to new projects? I remember your Diabolical Masquerade project that you split up in September 2004…
Anders - I keep an open door to this. If there's something interesting and inspiring coming my way, I probably won't turn it down. I'd love to play with a couple of other guys in some cool band and I'd love to tour more. Katatonia is the only touring band I have right now, and I have a desire to get up on stage with the more extreme material as well. Hell, I need to ponder about this shit...You only live once!
E.B. - Thanks a lot for your kindness! I wish you a huge success with The Great Cold Distance because I think it can be considered another masterpiece by an original reality called Katatonia. You can finish the interview as you prefer! Bye!
Anders - Thank you very much for the support! See you all on tour in 2006. Cheerz!