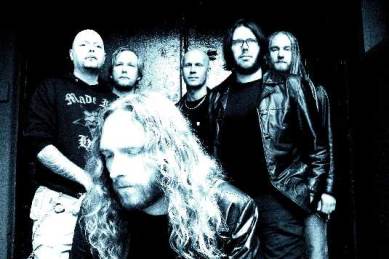 A great interview for RockLine.it with Niklas Sundin, the guitarist of the famous Swedish band Dark Tranquillity. After the release of the last Character, which had been a big success since January 2005, the band toured Europe and played in Italy at the Evolution Festival. Niklas tells us something abouth this experience and future projects...



E.B. - I have just seen you at Evolution Festival and, in my opinion, you played very well: how did you find Evolution Festival?
Niklas - We were really satisfied with how it turned out. Of course it was a shame that we had to play so early, but it was the only way to make it happen at all, and the audience was fantastic (as always in Italy). Unfortunately we could only stay for less than 12 hours in the country, so there wasn't time for anything else than just playing the gig and then rush to the cab for a crazy drive to the Milan airport (didn't even have time to shower afterwards!), but it felt like a first class arrangement. Beautiful scenery and a generally good atmosphere. Let's hope that it becomes a regular festival!
E.B. - From your first album to the last one, Character, we've noticed a constant change in your sound. Who among you has decided to evolve your style? Is there anyone specifically or did you work all together about it?
Niklas - It's all a group effort and there isn't any real leader or driving force in the band. Everyone agrees that in order to keep the band alive we have to try new things out and be willing to experiment with the music, otherwise it wouldn't be honest.
E.B. - Character was released in January and a great European tour followed its release. Are you working on new material for future albums or are you taking a breath? I know you're very busy with other gigs all around Europe but voices talk about a new work, close to Progressive sounds. Is it true?
Niklas - No, we haven't even started writing new songs yet, so it's impossible to say what the next album will sound like or when it will be ready. I heard these rumours as well, but it was only me saying in some interview that I personally would like a more experimental direction, but that we haven't really discussed it so I have no idea what the other guys think. We never make any grand plans either; what usually happens is that we just start playing around with our ideas and then we'll see where the material will take us, so at this point nobody knows what the direction will be.
E.B. - How did Europe answer to the release of your last full-length? In which countries has it been sold most? And are you satisfied of its success (third place in Swedish album chart is an excellent result)?
Niklas - The new album is going very well according to the record label and management, but I have no idea about sales figures.
E.B. - Can you tell us something about the present Swedish rock-metal scene? Has it quite changed since your first years of carrier? In a positive or in a negative way?
Niklas - I don't really have many opinions on the Swedish scene. There are a lot of successful bands, and on the whole it's bigger than ever, but I personally don't care much. The level of musicianship is high, and people definately know what they're doing, but it's rare that I come across that I find truly interesting, metal-wise. Don't mean to sound arrogant here, I'm just jaded at the moment.
E.B. - What kind of relationships do you have with media in Sweden? And In the rest of the world?
Niklas - I guess it's good, ha ha! We doing what we're supposed to, replying to interviews and giving information without complaining, so we're hopefully seen as a professional band in that aspect. Apart from that there isn't much of a relationship - we play music, the media reports about it, but that's basically it.
E.B. - Let's talk again about Character: I know that your favourite song from the album is The New Build. What does the new video represent for you? Are you going to shoot other videos?
Niklas - We hope to make at least one more video, but it depends on the label and also on the amount of future touring, how long time it will take to get the new album released and so on. Let's wait and see! As for the TNB video, we just wanted to make something different from the "Lost to apathy" video, which had a lot of slick looking special FX and such. We got the opportunity to bring the director with us on the European tour for a few days to shoot some live footage, and the end result is a good representation of D.T. in a live setting.
E.B. - On what do you concentrate most when you're writing lyrics or the music?
Niklas - Hard to tell. It's a long process, so it's not a case of coming up with a particular riff under the influence of one particular thought or concept. We just try to work really hard and spend a lot of time perfecting the music, and every song takes several months to complete, so there isn't any specific inspirational source that's present all the time.
E.B. - What do you remember of the first years of your carrier (the period from the first demos to Skydancer)? Was it a bad period for underground Metal scene in Scandinavia?
Niklas - It depends...Back then, everything was much smaller, and nobody knew about this style of music if they weren't involved in the underground themselves. Today, everything is out in the open, with the bands getting mainstream exposure in magazines, tv stations, big festivals and so. For good and bad. I'm in this for the love of the music and have no interest in being a public person or getting attention, so I liked it more in the old days when you could keep a low profile and when everything was kind of secret. The bigger a scene or a band gets, the more time you have to spend on irrelevant rockstar bullshit, and it's just a waste of time to me. The creative part is what's important; I couldn't care less about having to do long interview tourssigning sessions, long interview tours or TV appearances. Don't got me wrong, of course it's nice that people appreciate what we do, but with "success" comes a lot of demands and obligations that only take time and energy away from the music-making.
E.B. - Has graphic-design always been your main passion? When did you start interesting in it? Did you study in a specific school or did you have a personal evolution?
Niklas - I was drawing and painting long before I began playing an instrument, so it's a lifelong interest. I went to art school and have studied multimedia and interactive design, but that was back in the stone age, ha ha!
E.B. - Could you give us some information about Dark Tranquillity's future? What do you want to change and to keep of the sound of Character?
Niklas - Not sure where we want to go from here, really. As mentioned, we'll soon start working on new stuff, and then we'll see what happens, but so far we've been putting all our energy into touring and playing festivals, so everything concerning the future is an unwritten chapter. The next album might be pop or it might be grindcore - nobody knows.
E.B. - Now a personal question: do you prefer playing during a Festival or in a promotional gig?
Niklas - Both situations have their advantages, but it's usually other factors than the size of the show that determines if it's good or not. On a regular tour gig, you get more intimate with the audience and it can be very nice, and on a festival you usually have a bigger stage and audience, especially if it's outdoors. We enjoy doing both.
E.B. - Have you ever been to Italy apart from concerts and gigs? Which towns did you visit and what would you like to visit?
Niklas - I've occasionally been in Italy, on vacations and when we've had spare time from gigs. Venice is great of course, and the lake Garda area seemed fantastic judging from the Evolution festival, so it'd be great to go there as a tourist one day.
E.B. - Thanks again for having spent some of your time answering to our questions. We really hope to see Dark Tranquillity soon in Italy. You can finish the interview as you prefer, leaving a message to RockLine's readers! Bye!
Niklas - Well, thanks for your support! Hope to be back in Italy as soon as possible! Ciao!